Tom Abbs & Frequency Response: The Animated Adventures of Knox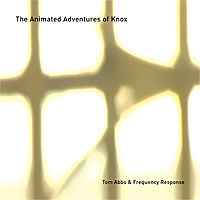 year: 2006 | cat#: 482-1039
Tracks
| | |
| --- | --- |
| 1. | Opening Fanfare |
| 2. | Awakening |
| 3. | Uncertainty |
| 4. | Rebellion |
| 5. | Division |
| 6. | Holding On |
| 7. | Perspective |
| 8. | Balancing |
| 9. | Closing Fanfare |
A two-disc set featuring a DVD movie and its CD soundtrack.
A combination of avant-jazz and avant-cinema produced, directed and edited by New York-based multi-instrumentalist/filmmaker Tom Abbs and based on his narrative and video graphic score. This is Frequency Response's second release, and features Abbs, violinist Jean Cook, cellist Okkyung Lee, multi-reedists Oscar Noriega and Alex Harding, and drummer/vibraphonist Chad Taylor.
"The Animated Adventures of Knox tells a story of innocence, treachery, madness and redemption," Abbs explains. "It depicts an internal struggle that nearly tears our hero apart: an escalating war of sound and color. Each character is represented by a single musician and is symbiotically tied into the dream-like visuals. From the perfection of Knox's infancy to the complex neurosis of his adulthood, the interaction of the characters and images fight for balance. The music was recorded to a video graphic score giving entrances, texture and emotion for each role. The movie was then shot and edited to match the recorded musical story. If you listen carefully you can hear the moment madness comes."
Abbs plays a number of instruments (including dijeridoo, cello, violin, and flute), but critics have singled him out as a "force of nature on the bass and tuba" (Time Out-New York) capable of being "exceptionally tasteful and supportive" (Chicago Reader), "a field of energy that feeds the group" (Cadence) and "a virtual mountain of polyrhythmic bedrock" (One Final Note). In the liner notes for a recent release, acclaimed bassist William Parker called him "a link to the future and the past...a living, growing musician who only reminds me of one other musician and that is Tom Abbs." Abbs has performed and recorded since age eleven, and attended the New School's Jazz and Contemporary Music Program before embarking on a full-time performing career in 1992. His sideman credits include work with Lawrence "Butch" Morris, Charles Gayle, Daniel Carter, Cooper-Moore, Steve Swell, Roy Campbell Jr., Sabir Mateen, Ori Kaplan, Jemeel Moondoc, Assif Tahar, Borah Bergman, Billy Bang, Andrew Lamb, Warren Smith and many others. He is currently a member of the collective groups Triptych Myth, Yugnaut and Transmitting, and in addition to leading Frequency Response tours with his solo multi-media project, Multifarious. Along with his performing career, and artist residencies though the New York public school system, he is the founder of Jump Arts, voted "Best Arts Collective in New York City" in 2000 by New York Press.
Musicians: Tom Abbs (bass, tuba, dijeridoo, cello, violin, flute), Chad Taylor (drums, vibes), Oscar Noriega (clarinet, saxophone), Okkyung Lee (cello), Jean Cook (violin), Alex Harding (saxophone, clarinet)
"Top Ten 2006" — Michael Coyle, Cadence
"...filled with atmosphere... the music takes advantage of the group's unusual instrumentation to provide an evocative variety of Free chamber Jazz events... "Uncertainty" showcases Noriega's exploratory clarinet amidst a wash of strings and freetime drumming. "Rebellion" brings an interestingly busy cacophony of bowed strings to the forefront. "Division" presents a howling, scorching reed workout. Mr. Abbs' bass and tuba contributions are certainly first-rate. Each separate cut creates a contrasting sound universe that holds listener interest... just listen." — Grego Applegate Edwards, Cadence
More Information...
Downtown Music Gallery review — Downtown Music Gallery
The Animated Adventures of Knox
Tom Abbs & Frequency Response main page at 482music.com
Copyright © 2023 482 Music