Rosenberg / Baker / Hatwich / Daisy: New Folk, New Blues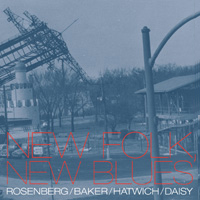 year: 2005 | cat#: 482-1031
Tracks
| | |
| --- | --- |
| 1. | Sweating Vertebrae Superior Cathedrals |
| 2. | Good Morning, Headache |
| 3. | Knives, Swords, Flags |
| 4. | Laugh Your Troubles Away |
"Top Ten, 2005" - Aaron Steinberg, JazzTimes
Scott Rosenberg, called "one of the best creative saxophonists in America" by the All Music Guide, returns to Chicago to join forces with three of the city's most visible improvisers for the eighth entry in 482's Document Chicago series. New Folk, New Blues features Rosenberg, 20-year scene vet Jim Baker (Caffeine, Steam, Dave Rempis Quartet), relative newcomer Anton Hatwich (Dave Rempis Percussion Quartet, Nick Broste Quintet), and Document Chicago series mainstay Tim Daisy (Triage, Vandermark 5, Rapid Croche) blending their acclaimed individual talents into a synergy of diverse collective improvisation.
Musicians: Scott Rosenberg (tenor and baritone saxophone), Jim Baker (piano, analog synthesizer, aluminum foil), Anton Hatwich (bass), Tim Daisy (drums)
"**** Four Stars" — The Penguin Guide to Jazz
"...this is as intense and enjoyable a free jazz album as you're likely to hear this year." — Paris Transatlantic
"In those moments in which acoustic and electronic meet, both are allowed a new context in which to coexist. In doing so, both are altered, seen differently... like looking through the world through new glasses, maybe with the prescription a little off. It's invigorating, if a bit askew... it makes for a triumphant exploration into differing, contrasting color." — One Final Note
"An excellent mix of fast free jazz and wild improv ideas... the drum and bass keep a jazz pace going, and Jim Baker's piano adds plenty of jazzy splash. As a treat, Baker also trots out analog synths for gloopy sci-fi color on #1 and 4. Exhiliarating stuff out of Chicago..." — KZSU Zookeeper
"Four extended free improvisations from four musicians clearly very much at home in the genre... rings the changes between the quietest music ... hectic free-for-alls ... and all points on the curve linking them." — Jazz Review (UK)
"Summit meetings like this are not always a guaranteed success, but here these four demonstrate their listening abilities as readily as their blowing skills for a boisterous free jazz album that is a notch above the rest." — JunkMedia
"The band is clearly in synch, regardless of the free form implications... the quartet rings up notions of the British free-improv movement, as they inject terse lines atop asymmetrical rhythms. And the band delves into bop and swing parameters with a soaring impetus." — Jazz Review.com
"The photo on New Folk, New Blues' front cover shows a scene of industrial disaster. In the center of an amusement park, an electrical tower seems to have broken at the base and hangs at a perilously low angle. It's an apt image for a band that mixes fun, menace and industrial sludge so adroitly." — JazzTimes
More Information...
New Folk, New Blues — Paris Transatlantic
New Folk, New Blues — Jazz Review (UK)
Rosenberg / Baker / Hatwich / Daisy main page at 482music.com
Copyright © 2023 482 Music