Harris Eisenstadt: Canada Day Octet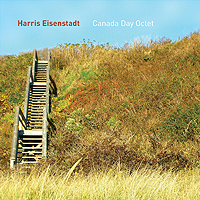 year: 2012 | cat#: 482-1080
Tracks
| | |
| --- | --- |
| 1. | The Ombudsman 1 - mp3 sample |
| 2. | The Ombudsman 2 - mp3 sample |
| 3. | The Ombudsman 3 |
| 4. | The Ombudsman 4 |
| 5. | Ballad for 10.6.7 - mp3 sample |
Harris Eisenstadt expands his highly-acclaimed Canada Day to an octet, and returns to 482 Music for the first time since 2005's The Soul and Gone. The octet first performed in 2011 as part of the Destination Out New York concert series, performing expanded arrangements of tunes from the band's book; the decision was made to record the project soon thereafter. Joining the regular quintet are Ray Anderson, Dan Peck, and longtime associate Jason Mears.
Having newcomers join an experienced working group created the interesting situation where more than half of the ensemble was very familiar with the material and the other three musicians were thrown into that pre-existing dynamic. "I wrote the arrangements with just this kind of situation in mind, " Eisenstadt says. "The tuba parts mostly function as counterpoint to the bass. The alto and trombone sometimes double the tenor and trumpet in octaves, unison, or harmony, and sometimes cross families, but rarely add whole new melodic lines. Since there's already a lot of counterpoint going on, these kinds of solutions for the wind and brass arranging seemed the best approach."
Canada Day has been Eisenstadt's primary vehicle since 2007, and has released two cds prior to this, and a third, Canada Day III (Songlines), arrives at the same time as Octet. And while Octet is part of the Canada Day oeuvre, it is also a companion to other Eisenstadt recordings of compositions for larger ensembles, including Woodblock Prints, The All Seeing Eye + Octets, Ahimsa Orchestra and Fight or Flight.
Octet consists primarily of the four-part suite "The Ombudsman", written for quintet but expanded here by adding background material to solo sections and to introductory and concluding improvisations.
Musicians: Nate Wooley (trumpet), Ray Anderson (trombone), Dan Peck (tuba), Jason Mears (alto saxophone), Matt Bauder (tenor saxophone), Chris Dingman (vibraphone), Garth Stevenson (bass), Harris Eisenstadt (drums)
"Large ensemble recording by the seriously innovative drummer Eisenstadt. The first four (of five) tracks were intended to, as Eisenstadt states on his site, "mediate between two constituencies; those for creative music and those mystified by it." Drums, bass, vibes, tuba, trumpet, tenor sax, alto sax, and trombone are the ingredients for another session of Eisenstadt's signature compositions of cut-and-run melodies, rhythmic tempests, and peek-a-boo hits of serenity out of dissonance. Collaborators Nate Wooley, Matt Bauder, and Chris Dingman should be familiar names in the Jazz Picks column at this point. Highly Recommended." — Dave Sumner, eMusic
More Information...
Harris Eisenstadt main page at 482music.com
Copyright © 2023 482 Music