Tomas Fujiwara & The Hook Up: The Air is Different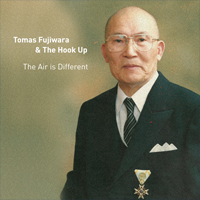 year: 2012 | cat#: 482-1079
Tracks
| | |
| --- | --- |
| 1. | Lineage - mp3 sample |
| 2. | Double Lake, Defined - mp3 sample |
| 3. | For Ours |
| 4. | Cosmopolitan (Rediscovery) |
| 5. | Smoke-Breathing Lights - mp3 sample |
| 6. | Postcards |
Buy Online
Buy now at 482music.com:
Free shipping within the continental U.S.
Or at these retailers:




The Air is Different is the second recording from Tomas Fujiwara & The Hook Up. The group includes the leader/composer on drums, Jonathan Finlayson on trumpet, Brian Settles on tenor saxophone, Mary Halvorson on guitar, and now Trevor Dunn on bass. While all of the performers are highly acclaimed and virtuosic soloists, this is an album that prizes the richly satisfying rewards of an ensemble sound over individual pyrotechnics. Shaped by the thoughtful constructions of Fujiwara's compositions and driven by his subtly expressive drumming, the music blurs the line between composition and improvisation, effortlessly celebrating a diverse stew of influences (from Wayne Shorter to Talib Kweli, from Fela Kuti to author Haruki Murakami) while demonstrating no uncertainty about its own powerfully distinct identity.

An actively working ensemble since 2008, their first recording, Actionspeak, was named one of the best debuts of 2010 by the New York City Jazz Record and received a four-star review in Downbeat. Jim Macnie of The Village Voice says, "The drummer has named his latest band appropriately. Ensembles can go anywhere if the intra-group chemistry is cooking…Fujiwara sounds like he's got his mates on speed dial." Reviewing a 2010 performance in The New York Times, Nate Chinen writes, "Insightful, invigorating…music with a history, smartly informed and firmly moored. Yet its basic feeling was contemporary. Mr. Fujiwara composes with a modern ear and an episodic approach: his tunes begin in one place and end someplace else, mutating in stages along the way."
Musicians: Mary Halvorson (guitar), Brian Settles (tenor saxophone), Jonathan Finlayson (trumpet), Trevor Dunn (bass), Tomas Fujiwara (drums)
"...features a killer band that pushes and pulls the drummer's lovely, episodic compositions with high-level improvisation." — Peter Margasak, The Chicago Reader
"The drummer Tomas Fujiwara brings a perceptive and agile intensity to the Hook Up, his version of a postbop quintet. The Air is Different (482), his second album with the band, reflects his searching instinct as a composer. The album has a concept: it's dedicated to Mr. Fujiwara's grandparents, and especially the memory of his grandfather, a Zen Buddhist priest whose dignified visage appears on the cover. ("Lineage," the opening track, was inspired by the overtones of a singing bowl from his temple in Japan.) The flexibility built into Mr. Fujiwara's writing is a boon for his band mates, the tenor saxophonist Brian Settles, the trumpeter Jonathan Finlayson, the guitarist Mary Halvorson and the bassist Trevor Dunn. Their work on a piece called "Smoke-Breathing Lights" nails the productive tension of free improvisation against a sturdy frame. " — Nate Chinen, The New York Times
"A cagey wobble between design and abstraction makes the new The Air Is Different utterly enchanting. Or maybe wobble is the wrong word: Drummer Fujiwara injects these pieces with authority, such that their outside excursions move with a determined stride, particularly during the moments of polyphony, when an orchestral feel surfaces." — Jim Macnie, Village Voice
"So yeah, it's a great record. But I should revise my opening statement a bit. It's not all about the phrasing. It's also, quite clearly, all about chemistry too. And both simply flow out of this marvelous band, moment by moment." — Jason Bivins, Point of Departure
"The second recording by drummer Tomas Fujiwara & The Hook Up follows the heralded Actionspeak, and continues upon a course, teeming with unanticipated shifts in strategy, but not executed in shock-therapy mode. With a superfine support system of revered improvisers, Fujiwara reaps the benefits of a distinctly fresh musical climate. With off-kilter patterns, cunning geometric architectures and sudden paradigm shifts, the band merges a search and conquer tactical component with an acutely balanced mix of structure and free-form dialogues." — Glenn Astarita, Jazz Review
More Information...
The New York City Jazz Record review —
Tomas Fujiwara & The Hook Up main page at 482music.com
Copyright © 2017 482 Music