Colorlist: A Square White Lie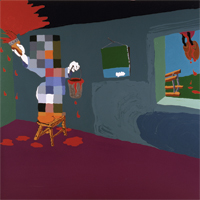 year: 2010 | cat#: 482-1066
Tracks
| | |
| --- | --- |
| 1. | Monochrome |
| 2. | The Lows |
| 3. | Constant Change |
| 4. | A Square White Lie |
Buy Online

A Square White Lie is a kaleidoscopic flux of sounds that pools all kinds of ideas and influences into an organic wash, one that is often transcendental and meditative, occasionally blissed out, and, once in a while, a bit fevered - like a gorgeous sunset whose hues shift and overlap in suspended time as the sun melts from the sky. It's a record that slips easily into a playlist that might include one of Teo Macero's cut-and-splice electric sessions with Miles Davis, Brian Eno's Music for Airports, Pharoah Sanders's cosmic explorations, Aphex Twin or Colorlist's post-rock neighbors Tortoise, Isotope 217, Town and Country, or the Sea and Cake. The four instrumentals are completely improvised, recorded live over two straight days, directly onto tape for the warm, analog sound of this limited edition 180-gram vinyl release. The LP includes a coupon to download high quality mp3s of the full album plus a bonus track.
Musicians: Charles Gorczynski (saxophone, harmonium, electronics), Charles Rumback (drums and bells)
"On their second studio album saxophonist Charles Gorczynski and percussionist Charles Rumback, aka Colorlist, have refined their spellbinding meditations, sanding away the rough edges of the performances to reveal something even more seductive. Their methodology hasn't changed: Gorczynski still plays long, arcing passages on saxophone and harmonium, sampling phrases to create hypnotic loops, and Rumback maintains a steady pulse while constantly altering the volume, density, and tone of his playing, augmenting conventional trap-set technique with hydroplaning cymbal drones, inventive brush work, and the scrape and clatter of objects dragged across his kit. His variegated percussion melds perfectly with the pastoral improvisations that Gorczynski unfolds atop the warm, enveloping backdrop of loops. Though the tone of his horn has a nice bite to it, his gorgeous, plaintive melodies nonetheless bring to mind the serene and ethereal aesthetic of ECM Records. A Square White Lie was recorded and mixed by Joshua Eustis of Telefon Tel Aviv, and it's to his credit that his fingerprints are nowhere to be found..." — Peter Margasak, Chicago Reader
"This week's best albums... texturalizes sound by utilizing delayed, echoing loops, mounting tension, harmonic and dissonant layers, and germane percussion... a soothing, shifting sea of sound that finds Charles Gorczynski, with sax, harmonium, and electronics, building full melodies out of fragments, accompanied by the beats, brush strokes, and accents of drummer Charles Rumback." — Scott Morrow, Alarm Press
More Information...
Colorlist main page at 482music.com
Copyright © 2023 482 Music