Greg Burk: Many Worlds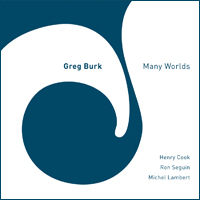 year: 2009 | cat#: 482-1063
Tracks
| | |
| --- | --- |
| 1. | Sonny Time |
| 2. | BC |
| 3. | Lost Time |
| 4. | Storm Cloud |
| 5. | Look to the Lion |
| 6. | Many Worlds |
| 7. | The Strong Force |
| 8. | Waves / Scattering Matrix |
| 9. | In Pursuit of Matter |
| 10. | Particular |
| 11. | The Spirit Will Take You Out |
On his fourth release for 482, Burk expands and refines concepts from his earlier work in startling new ways. With Henry Cook on woodwinds, bassist Ron Seguin and drummer Michel Lambert, Burk crafts a disc of extraordinary power, stunning beauty and timbral intrigue.
While this is the first recording of this quartet, there is a sense of familiarity and group chemistry apparent throughout. Burk and Cook's collaborations date back to their time with Boston's Either Orchestra, and Burk, Cook and Seguin have a performing history in Rome, Burk's home since 2004. With Lambert traveling frequently to Europe and active with Seguin on the Canadian jazz scene, the group has had a chance to form the bonds evident on its recorded debut.
All of Greg Burk's music pushes at the boundaries of composition, improvisation and of jazz itself; this newest offering is no exception. "I want my music to be beautiful," he states emphatically. "I love the freedom brought to this music by its pioneers, but I also love melody and structure." These are concerns that developed early. Burk comes from a musical family in which opera and orchestral repertoire played a very important role. Simultaneously, Burk began to develop a consuming passion for improvisation. "I was never a very good classical pianist, and I would always improvise between repetitions of what I was supposed to be practicing." His diverse musical interests led him to the innovations of John Coltrane, which he credits for cementing his interest in jazz. Later studies with Yusef Lateef, Archie Shepp and, perhaps most importantly, Paul Bley would bring Burk to the rhythmically flexible group concept which pervades much of the quartet interplay on Many Worlds. "He was a model for my development. He comes from a jazz tradition, but he challenges himself continually to improvise in other contexts."
Many Worlds is a record of continuous group exploration; each chord, gesture and composition leads to the next while maintaining autonomy, conjuring worlds while connecting them. The album's title is an apt descriptor, both of the compositional process and of the exploratory soundscapes evoked on this quartet's stellar debut.
Musicians: Greg Burk (piano, small percussion), Henry Cook (saxophones, flutes, washint), Michel Lambert (drums, percussion), Ron Seguin (bass, percussion)
"Bouncing, blinking leptons, dancing clusters of taus, discordance that surely can't be mere chaos." — Tom Hull, Village Voice Jazz Consumer Guide
"Zealously recommended.." — Glen Astarita, Jazz Review
"Greg Burk (not this writer but an avantian pianist based in Italy) has gotten himself a nice band. Now Burk can transport the aesthetic of mid-'60s Coltrane into the third millennium in ways I never imagined I'd hear from him. The key utility player is Henry Cook, whose saxes and flutes lend distinctiveness to a variety of moods ranging from dewdrop African dawn to Ibiza day-bake/night-dance to Cecil-style intensity. A bit of a beauty slave, Burk owns just the crisp yet sensitive phalangial dexterity to maximize his devotion, yet he's properly untidy, always pushing his paint off the edge of the canvas. Bassist Ron Seguin keeps things in focus with the contained bigness of his sound -- dig his fibrous extended solo on "BC." And drummer Michel Lambert tickles a mess of cymbals, usually just suggesting that you imagine some kind of interior rhythm. Not many Trane devotees allot equal respect to the rambling openness of McCoy Tyner and the elevational Indisms of Alice Coltrane (whose worldwide influence becomes ever more apparent). Greg Burk likes both, and Greg Burk concurs." — Greg Burk, MetalJazz.com
"...it's been a while since I've heard a new release that convincingly appropriated textures as diverse as Afro-Caribbean and contemporary music, free and modal jazz... Burk has a spiky approach to the piano, at times jarring and protruding from the lush landscapes the ensemble creates. Certainly the ringing waver of Paul Bley is evident (another of Burk's teachers), rhapsodic elements that tumble out of the music, sometimes violently - witness the volcanic fisticuffs that begin "The Strong Force." ...an excellent set and a worthy introduction to Greg Burk's music." — Clifford Allen, Ni Kantu
More Information...
Many Worlds East Coast 2011 dates —
Greg Burk main page at 482music.com
Copyright © 2023 482 Music