Kyle Bruckmann: Wrack: Intents & Purposes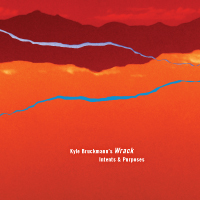 year: 2006 | cat#: 482-1050
Tracks
| | |
| --- | --- |
| 1. | The System Cannot Withstand Close Scrutiny |
| 2. | Slippery Disciplines |
| 3. | Inasmuch As |
| 4. | Intents & Purposes |
| 5. | Hot Bother |
| 6. | Despite All Evidence to the Contrary |
| 7. | Further Ado |
Intents & Purposes documents Bruckmann's first visit to the Chicago scene since leaving for the Bay Area in 2003, as well as Wrack's chamber-group-meets-creative-improvisation sound, which bridges the gap between modern classical music and Chicago's experimental jazz scene.
"As an oboist," writes Bruckmann in the liner notes, "I have little choice but to approach jazz tangentially, cautiously sidling up alongside it. Whether or not Wrack 'sounds like' jazz is immaterial; I'm only concerned that it behaves like jazz. The notation often deliberately eludes perfectibility, in an attempt to embrace the 'mistake' and circumvent the paralysis always threatening classical performance practice. The processes employed attempt to drag all the players into the action as engaged creative partners, with equitable distribution of cuing responsibilities and improvising space."
"Kyle Bruckmann's discography paints a picture of a modern day renaissance musician," wrote Dusted's Adam Strohm. For the past decade, the double-reed player/composer has embraced musical endeavors ranging from classical to electronic to experimental rock to free improvisation, performing throughout the U.S. and Europe and appearing on more than 30 recordings. From 1996-2003, he worked in Chicago as a freelance orchestral musician while also collaborating extensively with members of the city's experimental music scene. Now based in San Francisco, Bruckmann performs regularly with orchestras and chamber ensembles throughout the Bay Area while working within a vibrant international community of improvisers and sound artists.
Musicians: Kyle Bruckmann (oboe, English horn, suona), Tim Daisy (percussion), Anton Hatwich (bass), Jen Clare Paulson (viola), Jason Stein (bass clarinet)
"Top Ten 2007" — Troy Collins, Cadence
"There are echoes of the groups that influenced his development as a composer, from the AACM, in the juxtaposition of through-composed and improvised passages... to the exhilarating urgency of Hal Russell\'s NRG Ensemble and Flying Luttenbachers in the tight, irregular metrics of \"The System Cannot Withstand Close Scrutiny\"... Bruckmann\'s background in classical music manifests itself in the arrangements, which make impressive use of the dark colours of Jen Clare Paulson\'s viola, and the Bartók-inflected melodic contours, notably on the 14-minute title track. It\'s a more varied and energetic outing than the group\'s sober debut on Red Toucan three years ago, thanks in part to the enthusiastic input of newcomers Anton Hatwich and Jason Stein... But there\'s as much brain as brawn, and Intents & Purposes is dazzling proof that intricately arranged, angular modern jazz can be accessible and enjoyable." — Dan Warburton, The Wire
"Bruckmann effortlessly occupies the space between jazz and classical music, generating movements of somber reflection one minute, turbulent intensity the next. From Morton Feldman-esque minimalism to Charles Ives-like bluster, Wrack has few equals." — Troy Collins, All About Jazz
"Chicago expat Kyle Bruckmann conceived this quintet as a jazz band, but as he writes in the liner notes, \"as an oboist I have little choice but to approach jazz tangentially.\" His classical training makes its presence more strongly felt on the new disc: the rhythms are more complex and less swinging, the counterpoint more rigorous. Trombonist Jeb Bishop has left the group since its self-titled debut, replaced by Jason Stein on bass clarinet, so that Wrack\'s front line now consists of Bruckmann, Stein, and violist Jen Clare Paulson--and though they all acquit themselves admirably, they\'re all crowded into the same narrow timbral range, making it harder to appreciate the details in Bruckmann\'s writing or the nuances in the solos. But the musicians\' improvisational skill still comes through, and drummer Tim Daisy gives the dense, asymmetrical compositions a surprisingly springy feel." — Peter Margasak, Chicago Reader
"Some of the seven pieces here are cinematically evocative, but at other times... they can show a surprising boldness. Whatever the intents, it shows Bruckmann to be an interestingly diverse bandleader who's well worth watching." — Kurt Gottschalk, All About Jazz New York
"..creative in concept and well executed by an obviously dedicated group. Recommended." — David Kane, Cadence
More Information...
Kyle Bruckmann main page at 482music.com
Copyright © 2023 482 Music