Modo Trio: The Uninvited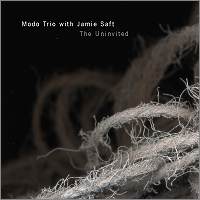 year: 2006 | cat#: 482-1049
Tracks
| | |
| --- | --- |
| 1. | Dream #8 |
| 2. | The Uninvited |
| 3. | Rocket Sauce |
| 4. | Bender |
| 5. | Aurora |
| 6. | Furious |
| 7. | Octothorpe |
| 8. | Solace |
| 9. | You Are Being Probed |
| 10. | No Harm |
This recording began as an idea to unite the Modo Trio with muliti-keyboardist/instrumentalist Jamie Saft. Although Saft did not pen any compositions here, his flowing playing and vast array of sounds, from the lusciously mysterious to vibrations that can only be described as consciousness-melting, contribute to make his presence strongly heard on nearly every track.
While this is a recording that primarily explores the territory where electronics meets improvisation, these are all musicians experienced with and comfortable playing acoustically, as evidenced on the title track "The Uninvited". It shows that their music is, at its core, listening to one another, phrasing together and telling a story. Between Brenan's harmonizer and Saft's keyboard sounds, there is a blending of textures that evolves to match the intent of the soloist, or simply to deepen the richness of the sonorities. This is beautifully expressed on the rubato tone poems "Aurora", and "Dream #8" and the profound ballad "Solace" by bassist Jeff Johnson. As striking and novel as these may first sound, they are not merely experiments, but are soulful performances within new aural landscapes: the heart moving the machine.
Musicians: Craig Brenan (trombone), Jeff Johnson (electric and acoustic basses), Bill George (drums), Jamie Saft (piano, Rhodes, mini Moog, guitar)
"2006 Top 10" — Kevin LeGendre, Jazzwise
"...a stroke of genius... The sheer beauty of "Dream #8"'s melody, the insistent head of "Furious" and the unlikely dub closer "No Harm" (with Saft on rhythm guitar!) are only a few of the highlights found on The Uninvited, a highly refreshing album of creative jazz." — François Couture, All Music Guide
"... out of the ordinary... righteously tight... vamps with skill and passsion. Nicely unsettling." — Daniel Spicer, Jazzwise
More Information...
Modo Trio main page at 482music.com
Copyright © 2023 482 Music