Greg Burk: The Way In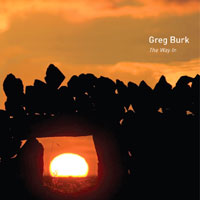 year: 2006 | cat#: 482-1048
Tracks
| | |
| --- | --- |
| 1. | Paper Piano |
| 2. | Ballad for Gold |
| 3. | Look to the Asteroid |
| 4. | Ballad for Sand |
| 5. | Walking the Earth |
| 6. | Wu-wei Out |
| 7. | Serenity's Distant Dawn |
| 8. | Ballad for Water |
| 9. | What is This Key In? |
| 10. | Big Bird |
Greg Burk, solo piano.
Burk's fourth release in as many years further documents his trademark synergy of freedom and structure. The all-original program features reinterpretations of previously composed works, organically developed free improvisations and explorations of the non-traditional sound potential of the piano.
"Burk's seemingly paradoxical ability to sound both considered and unfettered is a marvel," wrote AllAboutJazz.com Senior Editor John Kelman of 2005's Nothing, Knowing, featuring Steve Swallow and Bob Moses. Other critics agreed, writing "Burk puts a collage of ideas into each piece" (Jim Santella, Cadence), "he mixes idioms with the finesse of someone decades older" (Bill Shoemaker, PointofDeparture.org), and "Technically, Burk is a complete pianist, and he's intellectually curious enough to exploit the instrument's total sound-making capacity" (Chris Kelsey, JazzTimes).
Musicians: Greg Burk (piano)
"Top 10 2006 (Solo Discs)" — David Adler, JJA
"Recommended New Release" — All About Jazz New York
"This is an excellent solo piano offering" — Downtown Music Gallery
"Chances are taken from the start with \"Paper Piano\", where the rasp and rustle of amended strings provide not only a Cage-like melodic percussion but also a virtual second voice for a duet... Burk is more astringent romantic than dour scientist, and moments of Spanish fire and affectionate chinoiserie lighten the air of instant research." — Randal McIlroy, Coda
"This is truly imaginative keyboard exploration, powerful and probing yet rich and inviting as well." — Donald Elfman, All About Jazz-New York
More Information...
Cadence Review — Cadence
All About Jazz review and podcast
Greg Burk main page at 482music.com
Copyright © 2023 482 Music