Harris Eisenstadt: The Soul and Gone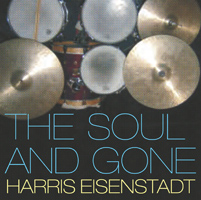 year: 2005 | cat#: 482-1042
Tracks
| | |
| --- | --- |
| 1. | The Evidence of Absence |
| 2. | Three Breaths |
| 3. | Portait of Holden Caufield |
| 4. | Posauno y Schlagwerk - Between a Rock |
| 5. | Kola #2 |
| 6. | Seed (for Henryk Gorecki) |
| 7. | And a Hard Place |
"Top Ten 2005" - Matthew Sumera, One Final Note
Prolific young drummer/percussionist/composer Harris Eisenstadt has collaborated with a long list of notable composer/improvisers all over the world in a wide variety of formats and musical genres (including contemporary classical, jazz/improvised music, West African/Javanese dance, theater, and film scores) and on more than 25 recordings on 17 different labels. As LA Weekly's Greg Burk put it, "Harris Eisenstadt is a composer with limbs prodding into spontaneous, post-bop, and neoclassical. He works with the best." His fifth CD as a leader, The Soul and Gone, captures his young all-star sextet of the same name at Chicago's famed 3030.
Musicians: Jason Adasiewicz (vibraphone), Jeb Bishop (trombone), Harris Eisenstadt (drums), Jason Mears (alto saxophone and b-flat clarinet), Jeff Parker (electric guitar), Jason Roebke (contrabass)
"Harris Eisenstadt wrote all the compositions on The Soul and Gone, and recruited a fine band of musicians who never cease to make the music amazing." — All About Jazz
"Last May LA-based drummer Harris Eisenstadt came to Chicago to play with three different lineups of musicians from our strong new-jazz scene. While this kind of ad hoc collaboration is par for the course in improvised music, apparently these one-off engagements left him wanting more. Five months later he returned to record an album with a cross section of the same people--vibist Jason Adasiewicz, trombonist Jeb Bishop, and bassist Jason Roebke--as well as guitarist Jeff Parker and LA reedist Jason Mears. But instead of just leading the group in a free-for-all blowing session, Eisenstadt brought along a variety of complex compositions filled with contrapuntal devices, dense harmonies, and crosscutting lines. On the sextet\'s forthcoming debut on the 482 Music label, they come together with remarkable precision, delivering wildly energetic performances with unexpected harmonic detail." — Peter Margasak, Chicago Reader 'Critic's Choice'
"Drummer/composer Harris Eisenstadt is certainly one to watch! Featuring complex horn parts and avant classical movements, Eisenstadt and his sextet generate an extensive array of genre- crossing ideas from start to finish. The artists' creative juices are set to motion during this gripping production, spiced up with disproportionate movements that somehow coalesce and make good sense." — All About Jazz New & Noteworthy
"Recommended New Release" — All About Jazz - New York at Night
"...one of the finest American creative jazz releases of 2005" — All Music Guide
"...clearly a brilliant new composer at the helm, we have one of the most interesting recordings to come in some time." — All About Jazz - New York
"The album's contrast between gritty guitar and and the vibes' coolness gives it a richly ambiguous sound; the pieces range from Braxtonian hyperbop to fractured rock'n'roll to a thoroughly unexpected homage to Henryk Gorecki, and the results are Eisenstatdt's most varied and fully achieved album to date." — Signal to Noise
More Information...
The Soul and Gone — The Soul and Gone
All About Jazz New & Noteworthy
Harris Eisenstadt main page at 482music.com
Copyright © 2023 482 Music