Greg Burk: Nothing, Knowing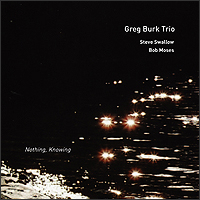 year: 2005 | cat#: 482-1037
Tracks
| | |
| --- | --- |
| 1. | Old Souls |
| 2. | Prelude to Surrender |
| 3. | Truth be Bold |
| 4. | Look to the Neutrino |
| 5. | Blink to Be |
| 6. | Operetta |
| 7. | Borneo Dreaming |
| 8. | Big Bird |
| 9. | Doves |
"Top Ten 2005" - Daniel Spicer, One Final Note
Featuring the renowned rhythm section team of electric bassist Steve Swallow and drummer/percussionist Bob Moses. The Rome-based pianist/composer's 482 Music debut, and follow-up to his first two well-received recordings as a leader on Italy's legendary Soul Note label, continues his documentation of an increasingly personal sound forged by a penchant for memorable melodies as well as probing improvisation.
"This recording is about discovery," writes Burk in the liner notes. "The intent of the music on Nothing, Knowing, as a whole, is to facilitate a wide range of emotional, sonic and spiritual creativity. As I've discovered on previous recordings, this approach keeps me more open to the realm of discovery, more attuned to the moment. An improviser, I believe, should enjoy the challenge and joy of embracing different contexts for communicating in music. In the moments of discovery this process brings about, the world expands to infinity and the familiar becomes fascinating, returning us to the childlike state of knowing less and seeing more. This is the spirit I hope I have captured here."
Musicians: Greg Burk (piano), Steve Swallow (electric bass), Bob Moses (drums)
"The world of piano trio records is vast. Though filled with many excellent dates, there is a glut of mediocre, if downright boring records. Without naming names on either side of the fence, seldom does a release come along that rises above the pack of mediocrity. Just when one might think that everything has been done or that there is little hope, along comes pianist Greg Burk's latest outing, Nothing, Knowing..." — Jay Collins, One Final Note
"...the best piano trio album of 2005..." — Paul Olson, All About Jazz
"Without a doubt, one of the finest piano trio offerings I\'ve heard in a long while." — Bruce Gallanter, Downtown Music Gallery
"A lot of piano trio recordings are released every year, but for sheer scope and unencumbered interplay that magically retains a sense of lyricism throughout, Nothing, Knowing stands out from the rest: continued evidence that Burk, while still relatively young, has all the makings of a musical giant." — John Kelman, All About Jazz
"His interplay with his sidemen is nearly telepathic at times and they consistently shift musical directions and share thoughts together. Listeners who enjoy explorative and passionate jazz improvising will definitely want this outing." — Scott Yanow, All Music Guide
"The group improvising is stellar. Reminds me of African percussion ensembles. Everyone has the groove/line in their heads but none of them state it. They play around the implied theme/pulse. This is much harder to do with melodic music. A beautiful release." — Matthew Lavoie, Voice of America
"It only takes a few seconds to realize what [Swallow and Moses] hear in Greg Burk: he's explosive and lyrical at the same time; he mixes idioms with the finesse of someone decades older; and, he has an ear for open structures that allow him, Swallow and Moses to go full tilt without overloading the listener. It is doubtful that Swallow and Moses have a prior tour de force performance like the nearly twenty-minute \"Truth be Bold\" in their shared discography. Give Greg Burk props for that, and more." — Bill Shoemaker, PointofDeparture.org
"Burk and company indulge in their own unique creative whirlwind that straddles post-bop inventions and what might be termed avant-garde sound collages, all the while never losing touch with the strong melodic sense of song that runs throughout each of Burk's compositions." — Greg Camphire, Ice
"...a bracing and well-rounded set. Throughout, they dazzle, whisper and invent durable musical constructs from their well-attuned interplay." — David Greenberger, Signal to Noise
"Greg Burk aime relever les défis. Recommandé" — Sébastien Moig, JazzoSphère
"Each of the three veterans contributes textures that commingle gracefully. Moses colors with crisp action and Swallow floats seamlessly from scene to scene as Burk puts a collage of ideas into each piece." — Jim Santella, Cadence
More Information...
Nothing, Knowing — Downtown Music Gallery review
Nothing, Knowing — PointofDeparture.org
Nothing, Knowing — Ice
Nothing, Knowing — Signal to Noise
Greg Burk main page at 482music.com
Copyright © 2023 482 Music