Francois Carrier Trio: Play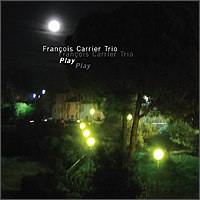 year: 2004 | cat#: 482-1033
Tracks
| | |
| --- | --- |
| 1. | Play |
| 2. | Le Marais |
| 3. | Open Conversation |
| 4. | Insomnie |
| 5. | Ballet |
| 6. | Ink |
| 7. | La Danse de Grand-Mie |
| 8. | Unloaded |
Known for using "composition as a guidepost rather than a predetermined path" (All About Jazz), the François Carrier Trio features three of Canada's most respected improvisers. Founded in 1990, the Juno award-winning, Quebec-based group has recorded for labels such as Naxos Jazz and Justin Time, and collaborated with special guest pianists Steve Amirault, Uri Caine, Jason Moran, and Bobo Stenson. Now, for the first time, these "advanced musicians who refuse to settle for the status quo" (All Music Guide) have documented the raw exuberance of their live performances on record, with seven improvisations and two compositions from their 2000 Canadian tour.
Musicians: Francois Carrier (alto sax), Pierre Cote (bass), Michel Lambert (drums)
"There is little free jazz better than this in the world and the world would be better if more free-jazz artists used Carrier's, [Evan] Parker's and Sam Rivers' ensembles as their models." — Jazz Review.com
"...the trio is solid as a rock, with Michel Lambert a forceful presence who is capable of gentle prodding when called for... and Pierre Côté an especially singular voice on bass, as his percussive elements and improvisational acumen add immeasurably to the mix. Carrier, though, is clearly in charge, as he dominates every track with his extraordinary, almost thrilling, rapid delivery and his confident voice. ...this album clearly evidences his exciting talent, which should not be missed." — Cadence
"The interaction among these three players reveals literacy with the post bop and free music continua, but it\'s not the sort of free-quoting postmodern multilateralism that characterizes the Dutch or downtown New York schools, for example. Play is more about listening and responding, developing ideas together and then not hesitating to move on when the right time comes. Not an easy feat, but these involved improvisations pull it off with intelligence and style." — All About Jazz
"This is my kind of album, an edgy saxophonist in a minimal setting." — Village Voice
"Sax-bass-drums trio -- free jazz with an accessible air. Most tracks have nicely complex jazz heads, a twisty modern kind of bebop. There\'s a genteel European air to the writing, although most tracks flash some wild abandon in the solos. Carrier on sax is of course the star, spilling out plenty of lengthy, rapid-fire licks. Fans of Steve Lacy or even Lee Konitz should feel welcome here. Really nice stuff that wouldn\'t be out of place on a mainstream jazz docket -- every track is a pleasure." — KZSU Zookeeper
More Information...
Play — Cadence
Play — JazzTimes
Francois Carrier Trio main page at 482music.com
Copyright © 2023 482 Music