Joelle Leandre / Mark Nauseef: Evident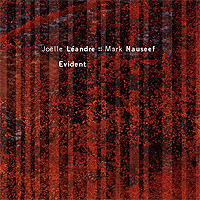 year: 2004 | cat#: 482-1024
Tracks
| | |
| --- | --- |
| 1. | Evident 1 |
| 2. | Evident 2 |
| 3. | Evident 3 |
| 4. | Evident 4 |
| 5. | Evident 5 |
| 6. | Evident 6 |
| 7. | Evident 7 |
| 8. | Evident 8 |
| 9. | Evident 9 |
Evident captures the first-ever collaboration between these two multi-faceted musicians at a concert on May 14th, 2002 in Eupen, Belgium. The music was created without previous discussion through listening and spontaneous interplay. A beautiful, crystalline WDR recording.
Musicians: Jöelle Léandre (contrabass, voice), Mark Nauseef (percussion)
"...confirms yet again Léandre\'s position as one of the most compelling improvisers, and indeed musicians, currently playing today... highly recommended." — One Final Note
"There is enough in the endless array of sounds available to these two musicians to make you want to pause and let silence reign for a moment while you digest the abstract beauty you've just heard." — Cadence
"Building a CD around what elsewhere would be called a rhythm section is a concept that could only come with the propagation of Free Music. That's because its practitioners -- in this case French bassist Joëlle Léandre and American percussionist Mark Nauseef -- don't follow the hierarchical designations of so-called classical, jazz or popular musics. With no front line, each instrumentalist is potentially both a soloist and an accompanist and that's why it's evident that Evident succeeds on its own terms.
...When a bassist and percussionist like these two get going, the contributions of other musicians aren't missed at all." — Ken Waxman
"..very lovely, very intense music." — JazzTimes
"...they are clearly attuned to each other... Evident is a work that challenges preconceptions and, as is the case with the best free improvisation, takes the listener through a broad spectrum of sounds, shapes and rhythms, rarely arriving in any one place for long. In the capable hands of Léandre and Nauseef, the combination of bass and percussion is enough to provide a remarkable breadth of textures, timbres and ambiences. For the open-minded listener this is a richly varied and ultimately rewarding journey." — All About Jazz
"...unconventionally lovely." — Copper Press
"Léandre explores the acoustic bass, often dealing in harmonics and arco effects, while Nauseef rifles through an assortment of uncategorizable percussion timbres. Rather than call-and-response interplay, the two spend most of the time collaborating on aural landscapes. Various narratives come to mind as this performance unfolds; for this listener, it sounds like a peek into some obscure European village, an effect which Léandre\'s occasional vocalizations enhance... a gentle, mostly calm outing which still offers depth and intrigue. Minimal packaging, excellent sound." — Signal to Noise
More Information...
Evident — Cadence review
Evident — JazzTimes review
Evident — Copper Press review
Evident — Bass World review
Joelle Leandre / Mark Nauseef main page at 482music.com
Copyright © 2023 482 Music