Jason Roebke: Rapid Croche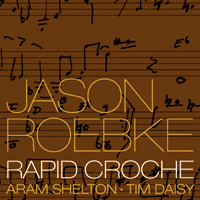 year: 2003 | cat#: 482-1016
Tracks
| | |
| --- | --- |
| 1. | Please |
| 2. | Sensor |
| 3. | Any American |
| 4. | Whatever You Think is Beautiful |
| 5. | It's Enough |
| 6. | Like You Thought It Might Be |
| 7. | Just Before It Starts |
| 8. | Northern Cross |
Recorded at Acme Recording, Chicago, IL, November 15, 2002
Rapid Croche is Chicago-based bassist/composer Jason Roebke's debut as a leader. Known for his work with groups like tigersmilk, The Valentine Trio and Terminal 4—as well as performances and recordings with a variety of other musicians from Chicago and Japan—Roebke is a versatile composer who has studied with Roscoe Mitchell among others. Rapid Croche documents Roebke's original compositions for his two-year old working trio of the same name, which features alto saxophonist/clarinetist Aram Shelton (Dragons 1976, Grey Ghost) and drummer Tim Daisy (Vandermark 5, Triage, Dragons 1976).
Roebke's bassist-as-leader approach and eclectic compositions, which can feature anything from textural free improvisation to ballad forms to underlying grooves, allow the group to take the familiar saxophone trio instrumentation to new and exciting places. "Rapid Croche," wrote Kevin Whitehead in the Chicago Reader, "shows how the old south-side AACM avant-garde continues to influence north-side progressives. Anthony Braxton's leapy melodies and wide voicings are in there, as is Air's equilateral approach—the scored frames suggest rhythmic or thematic motifs to pursue, and anyone can steer or take the foreground."
Born and raised in Wisconsin, Roebke began as an electric bassist before switching to upright bass in college. He earned a Bachelor's Degree in Composition and Theory from Lawrence University, under the guidance of Ken Schaphorst and Matt Turner, before studying for two years with Mitchell and arranging the legendary reed player's works for different sized ensembles. He also holds a Master's Degree in Improvisation from the University of Michigan at Ann Arbor where he was a student of Ed Sarath, Rodney Whitaker, and Stuart Sankey. Since moving to Chicago in 1999, he has performed with many of Chicago's most active improvisers like Ken Vandermark, Rob Mazurek, Jeff Parker, and Fred Lonberg-Holm. He also collaborates with dancer Ayako Kato in the group Art Union Humanscape and has performed with a number of notable musicians during trips to Japan.
Musicians: Aram Shelton (alto saxophone, clarinet), Jason Roebke (bass), Tim Daisy (drums)
"Bassist Roebke's cachet increases with his maturity. At such a young age presenting uncannily original, truly free based new music is quite an accomplishment. His bass playing itself is in a growth phase, and will blossom further, but for now this initial statement as a leader solidifies his individuality and compositionally singular place in improvised music. It's a statement that demands repeated listenings to fully grasp the depth of what his concept holds." — Michael G. Nastos, WEMU-FM, Ypsilanti, Mi. www.wemu.org
"There is something akin to Tim Berne's approach here, in that written parts gradually arise towards the end of a group improvisation (the opener "Please" being a good example of that). Drummer Tim Daisy, now occupying that chair in the Vandermark Five, and reedist Aram Shelton (alto and clarinet) ensure that the triangle remains equilateral throughout." — Marc Chénard, The Squid's Ear
"Spirit, zeal, and a searching soul... offers an exciting challenge to seekers of what\'s new under the sun." — Frank Rubolino, All About Jazz
More Information...
Chicago Jazz album of the week — ePulse
Rapid Croche — DownBeat
Rapid Croche — Jazz Weekly
Rapid Croche — All About Jazz
Rapid Croche — All About Jazz New York
Rapid Croche — JazzTimes
Rapid Croche — Coda
Rapid Croche — Kathodik review
Jason Roebke main page at 482music.com
Copyright © 2023 482 Music