Butcher / Masaoka / Robair: Guerrilla Mosaics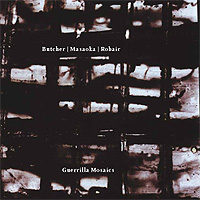 year: 2002 | cat#: 482-1013
Tracks
| | |
| --- | --- |
| 1. | Lish |
| 2. | Ouzel |
| 3. | The Dodge |
| 4. | A Wing - mp3 sample |
| 5. | Glyph |
| 6. | Dipper |
| 7. | Recept |
| 8. | Cae - mp3 sample |
| 9. | Mosaic |
| 10. | Covert |
| 11. | Sloots |
| 12. | Ariation |
Recorded in Oakland, CA, June 20, 2002.
Guerrilla Mosaics is a sax-koto-percussion conversation with results as unexpected as would be expected from these players. Butcher introduces his vocabulary of multiphonics, high frequencies and unique articulations to Masaoka's koto and laser-triggered koto; Robair ranges over the course of the disc from barely audible texturing to explosive full drum-kit.
The players work both with and against the cultural resonaces of their instruments, often subverting common modes of interaction. This is recognizably strings, wind and percussion, but with the enjoyable element of a first encounter, where no-one feels they already knows what it should sound like.
Working in a format without established precedent, this trio of all-star free improvisers spontaneously creates a unique sonic environment that challenges the traditional roles and sounds of their instruments.
"There is no other recording that sounds like this," says Robair, an active performer, music journalist, and founder of the San Francisco Bay Area label, Rastascan. "The battle is of three musicians trying to create an overall sound where you can't really tell what the different instruments are. John avoids sounding like a saxophone as much as possible and I avoid sounding like a drummer as much as possible. Miya's MIDI triggering laser koto doubles and triples the things she's able to do."
Although all three players are influenced by and well-versed in electronic music, the foundation of Guerrilla Mosaics is the skillful manipulation of the acoustic properties of their instruments. From Butcher's percussive use of the saxophone's keys and string-like overtones, to the low drones Masaoka creates with the body of the koto, to Robair's textural manipulation of found objects and cymbals that simulate the double-stop techniques of a string player, each musician utilizes well-developed personal ability to enhance the spontaneous collective discovery of playing together for the first time.
"I think we're all borrowing from what we know to be the musical possibilities of the other kinds of instruments," explains Butcher, a former physics Ph.D. candidate whose use of articulation, breathing, and multiphonic techniques has created new roles for the saxophone over the last two decades. "It's creatively stimulating to play when you have no idea what the form should be like, what shape the music should take, and, in particular, what the hierarchy or role of your instrument should be. The group actually becomes an entity through the process of playing. When it works, you end up doing something no single person could have imagined or planned."
Musicians: John Butcher (tenor & soprano saxophones), Miya Masaoka (21-string koto and laser koto), Gino Robair (percussion, faux dax, bowed metal, motors)
"Best of 2002" — Ken Waxman, Jazz Weekly
"Butcher and koto are, simply, a revelation... Guerrilla Mosaics makes the improvising arts a vital and urgent place all over again." — Greg Buium, Coda
"...few musicians working today are able to produce work as coherent and musical as this." — Dan Warburton, All Music Guide
"...another fine release from Butcher and a great chance to hear what sounds are coming out of the under-appreciated Bay Area scene." — Jason Bivins, Cadence
More Information...
Guerrilla Mosaics — Paris Transatlantic
Guerrilla Mosaics — Coda
Guerrilla Mosaics — Cadence
Guerrilla Mosaics — Signal to Noise
Guerrilla Mosaics — IAJRC
Butcher / Masaoka / Robair main page at 482music.com
Copyright © 2023 482 Music