Matana Roberts / Josh Abrams / Chad Taylor: Sticks and Stones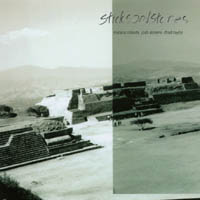 year: 2002 | cat#: 482-1012
Tracks
| | |
| --- | --- |
| 1. | Turning the Mark - mp3 sample |
| 2. | Equally Strong |
| 3. | Lose My Number |
| 4. | Suhasani - mp3 sample |
| 5. | End of the Game |
| 6. | Usetosay |
| 7. | Sons of Slaves |
| 8. | Hannibul |
| 9. | Spaces |
| 10. | Salvador |
| 11. | Spicer |
"Matana Roberts plays the saxophone with full-bodied tonality. On Sticks and Stones, she and her associates, bassist Josh Abrams and drummer Chad Taylor (also of the Chicago Underground Duo) play a series of original tunes where the improvised music has a significant degree of warmth to match its unstructured character. Each of the trio (and two other composers) contributed tunes for the set. The music has pulsating motivation and flowing spirituality to go along with its improvised nature. Roberts spins out rounds of freely constructed phases that are underwritten by the throbbing bass lines of Abrams and the intricate percussive patterns of Taylor. She goes on extended journeys into the core of the tunes, building the selections into vibrant and commanding statements on free expression. Roberts shows a mellow tone on the ballads and an authoritative voice on the faster paced tunes. Her strength is in her ability to spring off the loosely constructed songs and soar on high with freewheeling improvised but logical sequences. She has considerable command over her horn, and the music she produces is as alluring as it is elusive.
"The foundation established by Abrams and Taylor is fundamental to the success of this recording. Abrams keeps a foothold on terra firma but emits enough momentum to convey the movement of a space traveler through his diverse bowing and strumming. Taylor is all over his drum kit, pounding out a rhythmic base that moves off the line into abstract territory. He uses alternate percussion effects on "Sons of Slaves" to turn the rhythms into shimmering echoes. This backdrop from Abrams and Taylor allows Roberts to take wing and fly consistently. She brings elements of many of the great saxophone players to the table, but without question, she has a unique tone and way of phrasing that is devoid of rough edges or imitativeness. Her solos seem to roll off her tongue effortlessly, but they contain depth, fluidity, and character.
"Roberts is a new voice for me, but her draw and appeal was immediate. This is a recording that needs broad exposure."
- Frank Rubolino, One Final Note
Musicians: Matana Roberts (sax), Josh Abrams (double bass), Chad Taylor (drums)
"#2 Jazz Album of 2002" — Magnet
"Perhaps it's because they all hail from the same hometown or maybe they just share a strong spiritual link, but the improvisation-oriented music on this recording is solid. Sensitive to the delicacy of a trio, each player brings a strong yet malleable voice to the ensemble. Definitely the sort of transcendent musicality and versatility that has characterized the development of free jazz." — New Music Box
"This trio, from the start, constitutes a provocative mix of progressive players." — Dusted
More Information...
Sticks and Stones — Downtown Music Gallery review
Sticks and Stones — All Music Guide review
Sticks and Stones — Signal to Noise review
Sticks and Stones — Philadelphia City Paper
Sticks and Stones — ImproJazz review
Sticks & Stones, Kelompak Anyar Dari Chicago — Warta Jaza (Indonesia)
Matana Roberts / Josh Abrams / Chad Taylor main page at 482music.com
Copyright © 2023 482 Music