The Space Between: The Space Between with Barre Phillips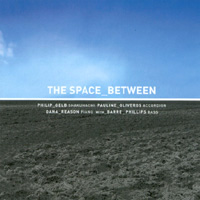 year: 2001 | cat#: 482-1007
Tracks
| | |
| --- | --- |
| 1. | King Kong Passes Through the Gates of Shaolin Temple and Contemplates Life |
| 2. | Natto Breath |
| 3. | After Long Life - mp3 sample |
| 4. | The Lonely Halibut |
| 5. | Fantastic Increments |
| 6. | Penguin |
| 7. | Do We Deserve Dubya? |
| 8. | Incandescent Gesture |
| 9. | David's Sandbox |
| 10. | Candles on the Lake Shore |
| 11. | Several Moments - mp3 sample |
| 12. | Surely It Was |
Recorded live at the Center for New Music and Audio Technologies, Berkeley, CA, September 17 & 19, 1998.
This is a truly unusual instrumentation, yielding remarkable results. The ensemble uses timbre - rather than basic harmony and melodic ideas - as the main building block for composition and improvisation. This because they are working in different tuning systems: Pauline Oliveros' accordion is tuned to just intonation, Dana's piano is in European tuning, and the shakuhachi is a notoriously difficult instrument to play "in tune" due to its construction and playing technique. On this date they are joined by veteran bassist Barre Phillips, who is credited on over 100 albums, many for the German ECM label.
Musicians: Philip Gelb (shakuhachi), Dana Reason (piano), Pauline Oliveros (accordion), Barre Phillips (bass)
"...extraordinary collisions of timbre and tuning." — Andy Hamilton, The Wire
".. As a unit, they speak in a broken tongue of rarified beauty that is demanding but fully rewarding." — Frank Rubolino, Cadence
"..these 62 minutes plus of creativity pass by like five, without, it seems, a bum note on the disc. Overall, this product of two young virtuosi and two veteran tonal explorers as a quartet of unconventional instruments is memorable in its audacity." — Ken Waxman, Jazz Weekly
"One of the interesting things about this cd is the meeting of two masters, Barre Phillips and Pauline Oliveros; more interesting is the group interaction and resulting music. ...each player gives by stepping out of their usual style, while still holding on their identity. Most pianists would dominate this situation with 'western harmony', Dana finds her own space in the music with no trace of this kind of thinking. Phil has the ability to find the profound times for very shakuhachi-like sounds, pure sound ideas, and crystal-clear pitches. Barre has always played with incredible variety, I could write five times this much about him... Pauline has been an important and over looked figure in non-jazz improvisation. That said, some of her lines on this recording are more jazz-like than I have ever heard in her music. ...This is my favorite kind of music, a mix of paradox, tension, co-operation and different backgrounds brought together in a relaxed, unhurried way that sounds like nothing before it." — Damon Smith
More Information...
The Space Between with Barre Phillips — Cadence review
The Space Between with Barre Phillips — The Wire review
The Space Between with Barre Phillips — Jazz Weekly review
The Space Between main page at 482music.com
Copyright © 2023 482 Music